TRAINS DISRUPTIONS IN THE ROUTES TO TRENTO
================================================

1) From Venice to Verona

We were notified today of relevant train disruptions between Venice station (called Venezia Santa Lucia or Venezia S.L.) and Verona station (Called Verona Porta Nuova or P.N.) on Sunday December 4th, between 7.00 am and 16.00 pm, due to the defusing of a WWII bomb found near the train tracks.

Trenitalia has put in place a service of buses to guarantee the connections. It is in Italian but, basically, it says that:

- The trains leaving from Venice at 8:10 AM and 10:10 AM will operate through a different route and will be in Verona about an hour later than originally scheduled.

- All the other trains will leave regularly from Venice but will stop in Vicenza. Here you have to get off the train and continue the journey with replacement buses that should be available outside the station. Ask the personnel where exactly you have to go. These trains will be arriving at Verona P.N. about an hour later than originally scheduled, so keep this in mind for your next connection to Trento.

Note that if one buys a regional train ticket, this is valid for 6 hours after purchase, so there is no need to change it if one takes a train later than scheduled.

2) From Milano to Verona

We are also aware of similar disruptions on the line Milano-Verona (originating in Torino or Genova). A list of the trains that will be suppressed or modified is attached. Our suggestion to those taking this route is to avoid Frecciarossa (FR) and Frecciaargento (FA) and take regional trains from Milan to Verona and then to Trento. There are no suspension notices about these trains, so far.

Note again that if one buys a regional train ticket, this is valid for 6 hours after purchase.
To Passo del Tonale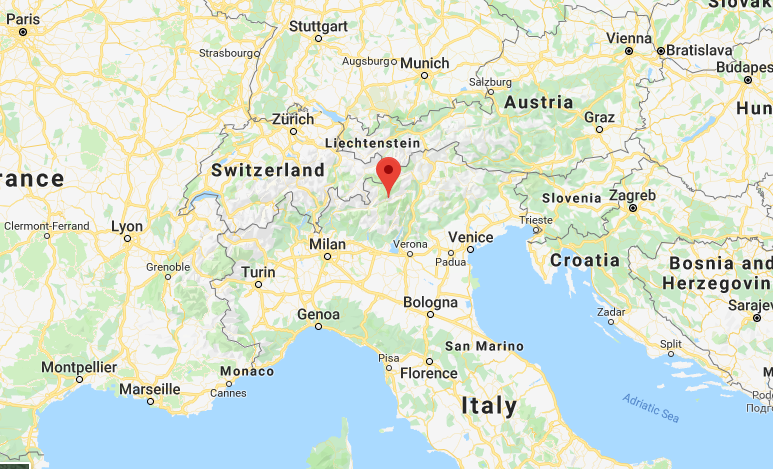 Suggested solutions
You can reach Trento by train from Verona (about 1h), Venezia Marco Polo (about 2.30 h), or Innsbruck (about 3h). All accomodations are at Hotel Adamello. After your participation is confirmed, please contact Hotel Adamello (Via Nazionale, 22 - I 38020 PASSO TONALE (TN) - Tel. +39 0364.903886 / Fax +39 0364.903667 / info@hoteladamello.com) to arrange for the accommodation.
We will provide a bus from Trento train station to Tonale at about 7pm on Sunday, Dec 4th. Please arrive by 6:30pm if you intend to use the bus and wait inside Trento main station (look for the Tonale Winterschool sign). If your train/flight is delayed please contact the organizers.
After the school, on Saturday Dec 10th, there will be a bus transfer Tonale-Trento, leaving the hotel at 11am and arriving around 1pm at the Trento train station.
NOTE: the cost of the bus transfer is included in the registration fee.
If you miss the bus or arrive on a different day, you can reach Tonale this way:
Close to Trento FSS Station, there is the Trentino Trasporti Station (very close, just beside): take a little train from Trento to Malè or Mezzana (you can buy the ticket at the station).
From Malè or Mezzana take bus B646 to Tonale (the bus stop is outside the stations, the ticket can be bought at the station). Malè is 30 km from Tonale, Mezzana is 15 km from Tonale. Bus timetable.
Please check the time schedule of the train between Trento and Malè or Mezzana:
There is also a less convenient bus between Trento and Malè (not on Sundays: timetable). Note that a taxi Trento - Tonale directly is quite expensive (~€150).
In order to find the most convenient connections to Venezia Marco Polo, Verona or Innsbruck you can visit the websites: http://www.kayak.co.uk, http://www.skyscanner.com/.
You can then check the railway connections between the airports and Trento at Trenitalia or Deutsche Bahn.
By plane: The nearest airports are:
Orio al Serio, Milano-Bergamo, about 130 km from Tonale,
Brescia Montichiari, about 140 km from Tonale,
Verona Valerio Catullo, about 160 km from Tonale,
Innsbruck (Austria), about 180 km from Tonale,
Milano Linate, about 200 km from Tonale,
Venezia Marco Polo about 325 km from Tonale.
By car:
Both from south or north:

Take road SS12 `del Brennero' or motorway A22 until San Michele all'Adige.
From there (80 km to Passo del Tonale) take road SS43 and then SS42 direction Passo del Tonale.

From west:

Take the motorway A4 Milano-Venezia until Ospitaletto.
Then follow Lago d'Iseo - Valle Camonica (SS42), direction via Tonale della Mendola.

From east:

Take motorway A4 Milano-Venezia until Seriate
Take the SS42/via Nazionale, follow Lovere - Valle Camonica, direction via Tonale della Mendola.
By train

It is easy to reach Trento by train from Northern Italy, Austria, and Southern Germany. Check the railway connections at Trenitalia or Deutsche Bahn

From the hotel to the lecture hall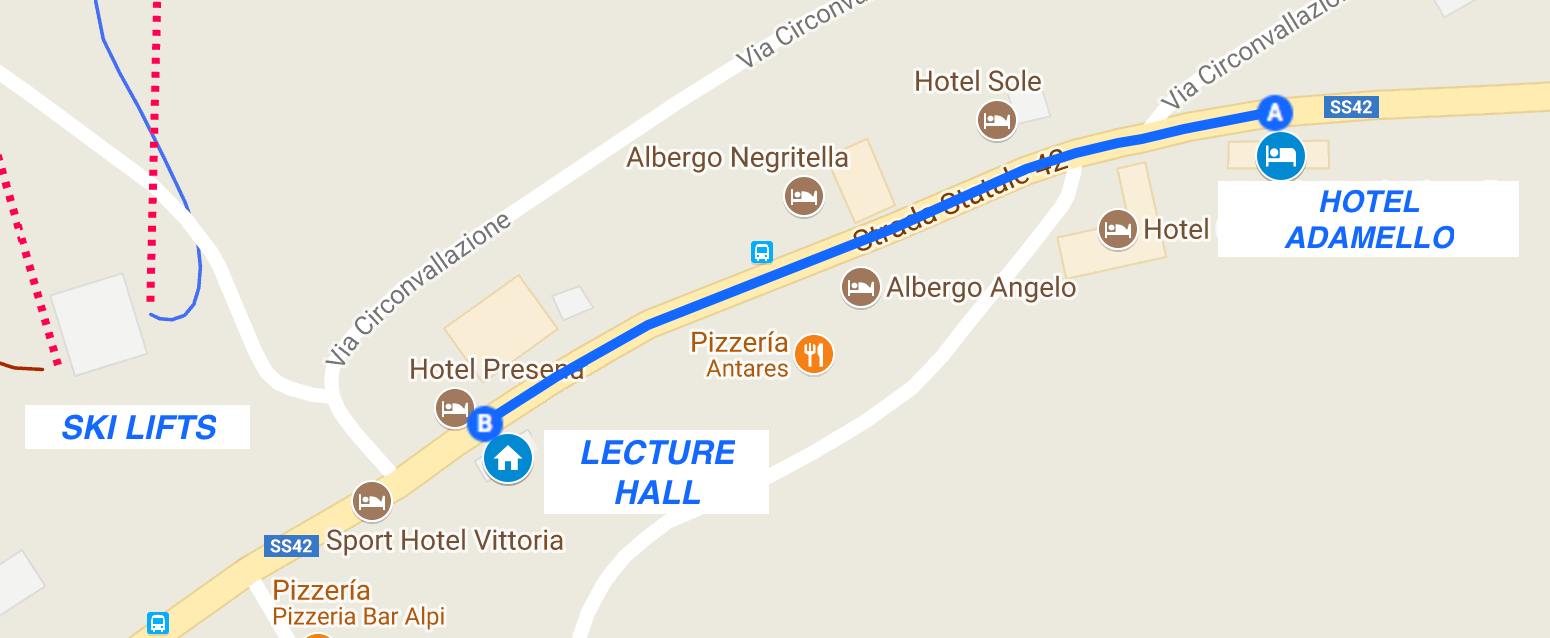 ---
Skiing and other activities
If you would like to go skiing during the breaks, the hotel offers a skipass for the following prices:
Discounted Skipass ADAMELLOSKI (prices 2022)

6 days: Euro 155,00
5 days: Euro 145,00
4 days: Euro 142,00
3 days: Euro 108,00
valid for Tonale, Ponte di Legno and Temù (100km paths). These prices are valid only if you inform the hotel in advance. Please note that the skipass does not include the rent of the skiing material. You will have to pay for this separately.
If you choose the full-board catering, the hotel will be able to prepare a packed lunch for you instead of the sit-down meal, should you wish to take it with you to the mountain.
Link to a high-resolution ski map
Below you can also find more information on further activities available at Tonale. The following information was provided by Tonale tourist information centre (located next to the conference hall).
Daily snowshoeshike with an alpine guide who explains the nature and history of the region. Reservation

info@guidealpinevaldisole.it

Nightly snowshoeshike by moonlight with an alpine guide who explains the starry sky, the nature and history of the region. For information and reservation

info@guidealpinevaldisole.it

Sleddog: sledging hauled by husky dogs. Sleddog school organizes courses of 3 or 4 hours; www.scuolaitalianasleddog.it

info@scuolaitalianasleddog.it

For snowmobile rides: email

veclani@tiscali.it

or calling + 39 0364 91808.

There is a swimming pool near Passo del Tonale, in Ponte di Legno (10km). It is open from Monday to Thursday from 11 am to 9 pm and on Saturday and Sunday from 3 pm to 8 pm.

In Tonale there is a rink near Hotel Savoia, open daily from 10am to 11 pm.
Weather forecast:
http://it.snow-forecast.com/resorts/Passo-Tonale/6day/bot
http://www.niederschlagsradar.de/niederschlagsprognose.aspx?type=1